Emily Coutts has spent much of the last three years playing Lt. Keyla Detmer in Star Trek Discovery on CBS. While Coutts currently resides in Los Angeles, she is able to revisit her Canadian roots quite often as the popular television show is filmed in Toronto.  More recently, Coutts has also been flexing as a multi-hyphenate, producing her own short film called
Dear Jesus,
which filmed just
last December. We spoke with Coutts on her artistic journey, her best advice for young actors, and her experience as a member of the Starship Enterprise.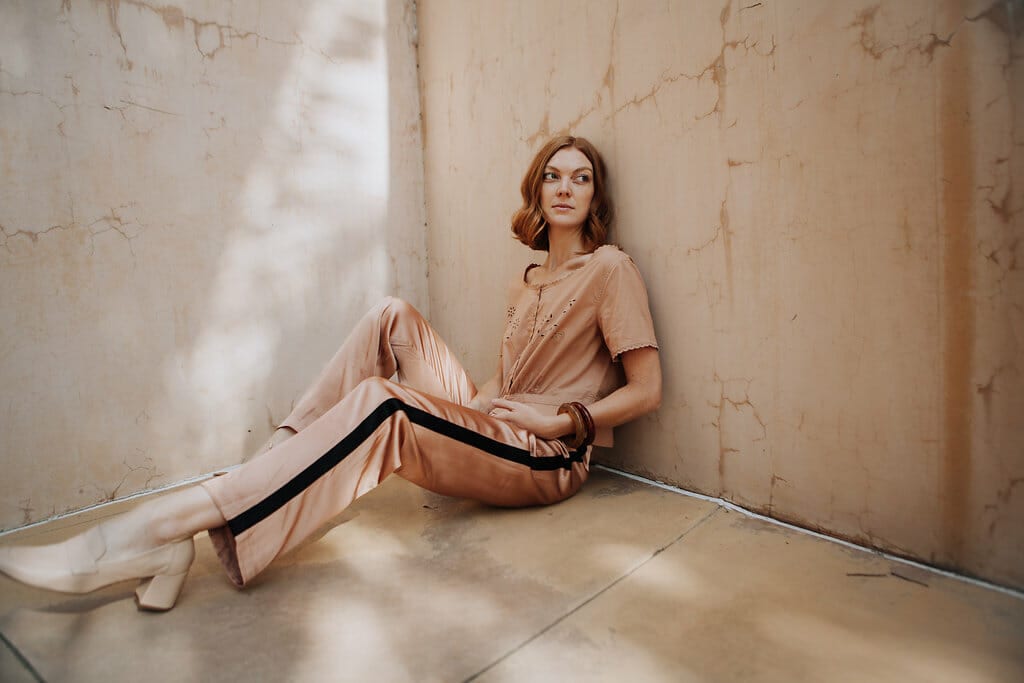 BLNCD: First off, how are you staying sane at home during this pandemic? Discovering any new hobbies?
EC: For me it has been about finding balance. I want to stay active and productive, but I also want to be gentle with myself. So some days you'll find me painting, writing my script, making lists and working out and other days eating banana bread while watching Ozark. I meditate so that's been helping with the anxiety of it all. New hobbies include going for walks to forage for wild flowers and making bouquets. It brings me so much joy. I also started a garden with my girlfriend which has been really nice. Even if it's as simple as watering it every day, it's keeping me grounded. 
BLNCD: When did you first discover acting was you calling? 
EC: I love this question because when I think back to the beginning, the desire to perform was so natural and pure. There was no ego, expectation or fear around it, just a desire to perform in front of my family and friends. I would invite the neighbours over and set up a stage in my garage to perform on. Thank you neighbours for being such great sports. Then I started singing lessons and my teacher told me about a musical audition for Annie. My parents brought me to the try outs and I booked a part; not Annie…don't even talk to me about it, it's still the one that got away, and after that I was hooked. I started acting and directing plays all through high school then moved to Toronto for theatre school. 
BLNCD: You belong to a fairly common echelon of successful Canadian actresses based in Hollywood. Home do your roots impact the way you operate in this industry and do you ever found a common thread with other Canadian-American actors? 
EC: Canada produces some insanely talented actors and filmmakers. We really have to prove ourselves to make it down to the States so we develop a very strong work ethic that can't be beat. People don't just sit around in Canada, we are always making our own work. That hard working attitude is something I will always have with me as I begin to live and work in other places. 
BLNCD: If we heard correctly, you'll role as Lt. Keyla Detmer on Star Trek Discovery originally was only supposed to be in a couple episodes. 
EC: That's correct! I was supposed to be in the first two episodes and then on the last day of shooting a producer came up to me and told me that they were going to keep me on the show and that was over three years ago. I had to pinch myself because it was really a dream come true to have my first consistent job especially with a cast that I love so much. 
BLNCD: How is shooting a sci-fi show different from the joys and challenges of other genres? 
EC: Star Trek is a big bold show with lots of fancy camera moves. Which is amazing and exciting to get to witness. As a filmmaker I am always awe struck at how perfectly oiled the machine is. This being said, as an actor it can be a challenge because it's a very technical show. You have to be ready to go when it's time to go so you have to always be on your toes. They're long days and sometimes your coverage comes at three in the morning and it's like…ok let's do this! 
BLNCD: I know this probably feels like ages ago for you, but we gotta ask, what was it like working with Guillermo del Toro on Crimson Peak? 
EC: Truly a dream. It was one of my first jobs in film so despite being completely overwhelmed, it turned out to be an incredible learning experience for me. GDT was thrilling. His energy on set is magnetic and he makes every person want to step up and do great work. The way he gave me notes is still unlike anything I've experienced. 
BLNCD: More recently, you've taken steps behind the camera, shooting photography and also producing some of your own short films. Tell us more about that? 
EC: Yes! Recently I produced a short film I wrote called Dear Jesus. It has been in the works for a few years and we shot it in December 2019. We are currently in post production and will be doing a festival run starting this fall. We don't have a lot of control in this business when we sit and wait by the phone so I find that if I'm creating my own work I feel more deeply satisfied with myself and my career. I want to continue to write, produce and direct as much as I can. 
And yes, I've always loved photography and taking portraits of people. It's something I do that's creative and just for fun which is so important. 
BLNCD: It's no secret that pursuing an acting career can come with a lot of struggle and insecurity. How do you stay resilient and emotionally sound during the turbulent times? What would be your advice to younger actors on navigating these challenges? 
EC: If you compare yourself to others, this industry will eat you up. It's challenging to resist it when peers are booking jobs around you or reversely when you have a job and feel invincible. Things change like the tide and it's very unsettling. When things are tough and I lose faith I try to reconnect with that childlike part of myself who isn't doing this for anyone else. I have spent the majority of my 20's learning to love myself. This industry can make you doubt yourself. It can make you question whether you are good enough, special enough, pretty enough etc etc etc. Through fostering a healthy relationship with myself, I can face the challenging moments with more faith in myself and more grace. Any negative self talk makes the low moments in your career that much harder. Practically speaking, surrounding yourself with friends who make you feel good about yourself is so important. Have a creative community that is supportive and empowering. Doing things other than acting. You have to have hobbies outside of the industry. Collect rocks, make epic playlists, do photoshoots, make furniture…anything.
BLNCD: What's on the horizon for you? What do you hope the future hold? 
EC: Well, the future is very mysterious for all of us but I'm trying to stay positive. I just officially moved to LA in February so I'm excited to continue this new chapter. I am recently in my 30's and it feels really good, simpler somehow. I just want to do more of what I love with the people I love. Work wise I am booked to shoot a role in a new CBS pilot this year. I'm also putting a lot of energy into developing Dear Jesus into a feature film. 
Photography by Sarah Shreves
Story by John Mark